Introductory post here. You can sign up for monthly reminders.
Let's talk about Tangled Threads, shall we?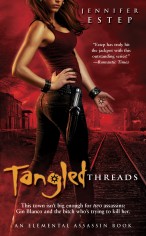 Discussion
Hot damn! The villain in this book was so badass awesome. Can you imagine having electricity as your element? What a way to light up a party. If you could have elemental magic, what would you choose?
Mab really stooped to new lows with her new business venture. Do you think this idea has been squashed because of Gin's 4-alarm fire, or do you think Mab will find another way to spice up her city's nightlife?
I really hate that Bria found out about Gin the way that she did, but my heart was overflowing with happiness by the end of the book. Do you think they still have a bumpy road ahead, or has Bria tossed all of Gin's history out the window?
ZOMGWTFBBQ! FLETCHER was initially hired by Mab to kill the Snow family! That was a piece of information I didn't see coming, though it all adds up now. His assassin moral code stood in the way, and he ended up saving Gin and Bria, in big ways. Did you have any idea he was involved at that level?
Owen and Gin make me smile. I am totally falling for this guy, right along with Gin. I have not had the same reservations other readers have had. Do you trust him or is he still shady?
BRIA AND FINN! Some of you caught on to this in the last book, and I was totally oblivious to the opportunity. I didn't think there was a chance in hell, but it appears that we might have a new entertaining romance on our hands. Do you think this connection will actually happen?
Favorite Quotes
"It's not a booty call," I muttered. "Right," Finn drawled. "And I'm a eunuch."

I raised an eyebrow. "I do happen to have several sharp knives secreted on my person. So we could easily arrange that, if you really wanted to make that sort of permanent lifestyle change."

Finn shuddered. "I'd rather be dead."
"That's why you look so tired, isn't it?" I murmured. "You used up all your magic to find me last night."

Owen shrugged as though it was nothing. But it wasn't nothing to me. Besides Finn and the Deveraux sisters, I couldn't even remember the last time someone had cared enough to come looking for me when I was in trouble. I was so used to being on my own for so long, always being the tough, strong, capable one, that I'd forgotten how nice it felt to have someone else look out for me.

To have someone else care about me.

And just like that, the fragile strings of my feelings for Owen joined together, all the tangled threads wrapping around and weaving their way through my heart. Scary and painful in some ways, but necessary in others too.
He fished out the item and held it up for me to see. "A key?""I admit that it isn't nearly as nice or as inspired as the new silverstone knives that you made for me" I said. "But I've been busy these last few days."Owen stared at me with his violet eyes. "And what does this key go to?"My heart, because you've proved yourself worthy of it.
Read-Along Discussion Schedule
© 2012 – 2013, Smash Attack Reads. All rights reserved.