You can find the introductory post here and sign up for monthly reminders.
Let's talk about Web of Lies, shall we?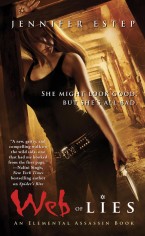 Hello, Owen Grayson. *wink* What were your initial thoughts about Owen when he arrived to pick up Eva from the Pork Pit? What were your thoughts during that entertainingly hot discussion Gin and Owen had at Mab's party, and then at the mining accident? I think we will definitely see more of Owen Grayson.
I love that Gin cooks when she's feeling stressed. I also want to eat just about everything she makes! What do you do to relieve stress? And if you don't want to share that bit of information (hey, it could get personal) then tell us what you would cook/eat to relieve stress.
The passion between Gin and the good detective is hot, hot, hot! Their car romp was fun, but Donovan immediately shuts down, struggling with his opposing feelings for Gin. At the end of the book, he tells her he is leaving town. What are your thoughts around Donovan's personal struggles around his feelings for Gin?
Gin as a Texas Barbie! A very deadly Texas Barbie. I loved this disguise and the accent just about killed me. If you had to disguise yourself for an assassination job, what might be the worst – or best –  costume idea (for you personally)?
Gin has figured out that Mab is the one who murdered her mother and sister. I'm curious to hear your theories as to why!
Gin walks a fine line between good and evil. What's your stance on her personal code and the teachings from Fletcher? Do you think people such as she provide a reasonable role in society, or do we need to leave justice to the law?
P.S. I will not be available to join the disucssion much until the evening, but Brianna will be here during the day to talk it up!
 QUOTES
Come on, you bastard. Come and play with Gin. – pg. 8
"I know. But it's still a nice thought. The idea of Jake McAllister being somebody's prison yard bitch gives me the warm fuzzies." – p. 55
I went over, put my hand into Finn's broad  shoulder, and shook him awake.
"What? What?" he mumbled in a sleepy voice. "I didn't touch her, I swear."
"Relax, Casanova," I said. -p. 233
"Donovan is [a fine man]. But he's not the one for you." p. 191
"See something you like, Detective?" I said in a soft voice. "Because I sure do." p. 223
"You could just run over him," I said. "He's already dead, and it's not like you haven't done it before."
"Yeah, but I don't want bloody bits of dwarf stuck on my wheels for the next two weeks." Finn sniffed. "This is an Aston Martin, Gin. You don't run over dead bodies in an Aston Martin."
"Tell that to James Bond."
Finn shot me a dirty look as he pulled out onto the street."
Read-Along Discussion Schedule
9/28/2012: Spider's Bite discussion @ The Book Vixen
10/30/2012: Web of Lies discussion @ Smash Attack Reads
11/30/2012: Venom discussion @ The Book Vixen
12/28/2012: Tangled Threads discussion @ Smash Attack Reads
1/31/2013: Spider's Revenge discussion @ The Book Vixen
2/28/2013: By a Thread discussion @ Smash Attack Reads
3/30/2013: Widow's Web discussion @ The Book Vixen
4/30/2013: Deadly Sting discussion @ Smash Attack Reads
© 2012 – 2013, Smash Attack Reads. All rights reserved.