Clock Rewinders on a Book Binge is the weekly recap feature created by Amanda @ On a Book Bender and Tara @ 25 Hour Books, where they shamelessly plug each other, share the fantastic posts, giveaways, or whatever else they've found and loved by other awesome bloggers/authors/publishers/etc during the week, and talk about the books they plan on reading in the coming week.
Smash Attack Reads Recap
***
Ruby (Ruby's Reads)
invited me to talk about
my life in books
for her Bibliobiography feature!
ATTENTION EMAIL SUBSCRIBERS:
So, you may have heard that Google is doing away with their API services, which means that Feedburner will no longer work for email subscriptions. You can still use it for following the feed via a reader, but no more email. So lame!  
Rachel (Parajunkee)
 talks about the issue 
here
. Talk Supe
 also 
gives an alternative
 with Feed Cat. That being said, I've decided to use Jetpack's (WordPress plugin) built-in email subscription service, and you will find it over on the right side. You will need to resubscribe to the blog now. You will receive an email that you need to confirm. I apologize for the inconvenience. Boo on you, Google! EDIT: If you continue to receive two email subscriptions in mid-October, I would cancel your Feedburner subscription.
In the life of Smash
My brave book protector…
Well, I never received a call back for a 2nd interview. BOO. BUT, I did get approved by the board to take my licensing exam. I am in major freak out mode. I am going to schedule the test for the end of October and will be not be as active with blogging during the month. I do have a ton of stuff scheduled already, but I need to focus on this test and therefore, I won't be as active on Twitter or visiting blogs, etc. I've just only been half focused lately, and if I'm taking this sucker at the end of October, that gives me a month to really get down to biz. I'm going to take the practice test through the testing agency and see how that goes. I know the areas I need more practice in, and I've been focusing on those lately. I'm just not the best test taker in the world because of my nerves. It costs $230 (+ $100 fee to board + study materials) so I NEED to pass it on first try. Plus, I NEED to find a job, which is the entire point of this damn endeavor.
Last Sunday evening at book club, we discussed Ordinary Beauty. My review is not until 10/24 but holy shite, did I ever have a lot to say. I truly had to stop myself. It might be a bit much, but I hope you'll read both my review and the book. I also made Pumpkin Spice cupcakes with Cinnamon Cream Cheese Frosting. Once again, they were a hit with book club. I truly love my new little role of providing heavenly awesome once a month to my peeps. I wish I could share them with all of you, too!
Lastly, I think the most exciting thing that happened to me all week occurred Friday night, when Kt alerted me to this:
*points to stepback quote"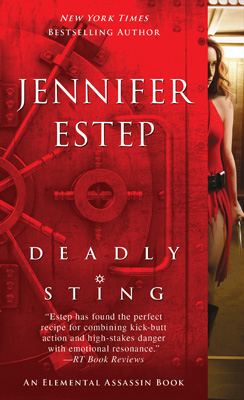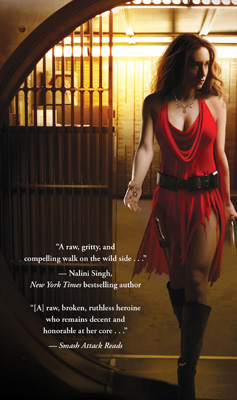 SAY WHAT???? BLOWN. AWAY. PEOPLE. O.O
Woah. *smooths hair* Of course, be sure to visit Jennifer Estep's website for the skinny on this new cover, as it's quite a change from the rest of the series.
AND…join us in during the Elemental Assassins read-a-long!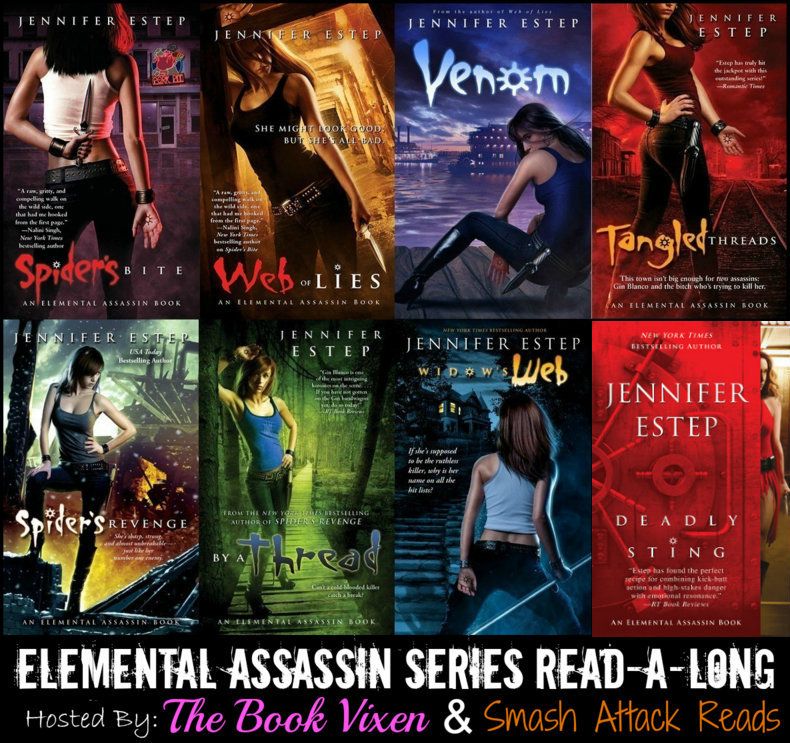 Smashtastic Stats
Read in 2012: 81 – I am SO going to surpass 100!
Unbreaking the Shelves Update
I updated my Gifted, Signed, Review Queue, and Review Request Complete shelves on Goodreads! I also created a shelf for books that are Novellas, since I seem to like these.
I inhaled the Eve series by Anna Carrey so I could read the ARC of the final installment, Rise. ZOMG. In love.
*whistles* *shifty eyes*
The Living with the Dead series is hella entertaining. Highly recommend!
Tidbits from around the blogosphere
Authors/Publishers
Kendall Grey shares information on her Ephemera shorts from the Just Breathe universe.
Bloggers/Bookish Sites
Things that make me smile
Thanks, Kristilynn! I DIE from cuteness every time I watch this, which has been quite numerous!
Search terms
Up Next…
Smash reviews Pretty When She Dies by Rhiannon Frater
Mel Reviews Diaries of an Urban Panther by Amanda Arista
Smash reviews Dark Inside by Jeyn Roberts
Bloggiesta Mini-Challenge: Grade yourself!
Cover Reveal: Release by M.R. Merrick
Andrew Smith Saturdays: The Marbury Lens Discussion, Part Four
Have a fab week!
© 2012 – 2013, Smash Attack Reads. All rights reserved.