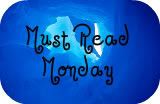 Hosted by What's on the Bookshelf
Must Read Monday is a new feature where we showcase a book or series that we highly recommend! Feel free to join by leaving your link in the comments or leave a comment with a book you recommend at What's on the Bookshelf.
#BookBully Foreva!
---
My reviews:  Jenny Pox | Tommy Nightmare | Alexander Death
Bloggers mentioned with review link:
Let me set the scene: Jenny Morton has lived her entire short life in the small town of Fallen Oak. Jenny has a serious secret, and it's one she has been suffering with her entire life: one touch from Jenny will cause horrific boils, blisters and open sores to sprout on the infected area, and if she holds on a little too long, your diseased body will wither away until her plague sends you to an early grave.
 Not much different than the typical teenage worries, right?
Jenny is known as that weird girl who avoids human contact at all costs and wears long sleeves and gloves in the midst of a Southern summer. Jenny Mittens, they call her. Jenny's sad existence was never quite ready for what rolled around her senior year of high school. Events are set in motion that puts Jenny on a path she would never have dreamed possible. And you, the reader, will be unprepared, as well.
Holy shit guys!  I can't remember the last time that a book affected me so much. The premise is unique, the characters are intense, and the world-building is surprising!  Jenny's story broke my heart.  I can't imagine living life without human touch.  No hugs, no kisses, no high-fives, no smex *gasp*. -Isalys
The villain of the series, Ashleigh, is an incredibly well-written character. She will leave you dizzy from the amount of WTFkery this chic pulls! And just when you think a manipulative bitch can't get more manipulative, the authors slaps you with total domination in heels. She is the epitome of evil.
A masterfully written villain, Ashleigh is quite the character. I loathed her; she is manipulative, she is malevolent, and she literally wants to rule the world. It's not hard to guess that she is the one making Jenny's life a living hell. As far as villains go, this one really gets under your skin. I thought her role was ingeniously crafted; you can easily imagine how, if something is not done soon, she can, and will, become unstoppable. -Giselle
I can't forget Seth! He surprises you. You don't expect what you get from this young man, and I really found my self cheering for his victory throughout his dealings with the Devil Ashleigh. That's right. Ashleigh is his girlfriend. She has her claws in deep, but even a lethal tiger can be brought down with precision and patience. Booyah!
Seth and Jenny's interactions were quite beautiful in their simplicity and honesty. Raw and emotional, honest and real, subtle and strong.
Seth was funny and sweet and genuinely cared about Jenny so the scenes with them together were a delight. -Isalys
And the world-building. I cannot forget to tell you about that! Just when you think this book is about three people with paranormal abilities, the author kicks up the lore and story into high gear, and your jaw is left making nice with the floor. As you move into books two and three, you are really left wowed by the amazing creative mind of  J.L. Bryan!
One of the things that has intrigued me since book 1 is the worldbuilding that J.L. Bryan has given us.  The idea of these fantastic individuals who have helped shape history but who are so much older than our own world fascinates me.  They've pushed humanity through the ages.  They've incited wars and destruction.  The juxtaposition between those past lives and Jenny's current life where she tries to go unnoticed and untouched pulled at me. -Kelly
J.L. Bryan created dynamic, interesting characters, a world rich with mythology, terrifying scenes and heart-felt moments. You connect with the characters, even the ones who you are skeptical about. I was invested in Jenny and Seth's safety and future from the very beginning. To me, this is what a good story is all about.
And um, pretty much what she says:
J.L. Bryan is BRILLIANT. I adored every single second of this book, the ending was mind-blowing and phenomenal!!! I was completely blown away- Iabsolutely LOVED this book. -Ashleigh
Did we convince you? Not yet? Well, read this.
And now, you must surely be convinced. *glare of doom*
© 2012, Smash Attack Reads. All rights reserved.