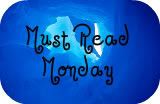 Hosted by What's on the Bookshelf
Must Read Monday is a new feature where we showcase a book or series that we highly recommend! Feel free to join by leaving your link in the comments or leave a comment with a book you recommend at What's on the Bookshelf.
#BookBully Foreva!
---
I'm doing things different today, and may decide to do things this way from now on. I figure, the more ammunition I have, the better. I am involving other bloggers in this #BookBully moment by highlighting some of their comments, as well.
Bloggers mentioned with review link:
I think my favorite part of this book is the world-building. Big surprise, right? I was truly blown away by a society that has migrated underground due to war and plague that eradicated much of  the "Topside" world. The elders of these subterranean enclaves have warned of the dangers of Topside, like acid rain and sun that melts off your skin, so people stay put. Ann Aguirre has an amazing quality to her writing that is quite hypnotic. Her ability to make the reader feel as though they were experiencing this hellish landscape is quite impressive.
Talking about the world, it was magnificent. Sometimes I think about the book and for seconds I'm not sure if I read the book or watch the movie. My recollections of the scenes are so vivid that my brain gets confused and doesn't know the difference. -Marcela
YES FINALLY THANK YOU! Ann Aguirre's world building has two things going for it: 1) It makes logical sense, and 2) I can picture it perfectly. Reading Enclavewas like watching a movie unfold before my eyes. Her world is immersive, it's scary, it's oppressive, it's bleak, and it actually makes sense! -Small
Of course, living "Down Below" is hella rough. Life expectancy is early 20s, so those who actually make it to 15 are finally given a name instead of a gender and a number. I must state that the naming ceremony was very creative, and is one of the more memorable scenes of the book. Aside from disease, starvation and malnutrition, no sunlight (which means no Vitamin D) and a harsh ass environment, the enclaves have a more imminent threat to face: the Freaks, a nasty breed of human-like creatures with a serious appetite for flesh.
The Freaks freaked me out!  Anytime there was a fight scene I could feel their nasty Freak breath on my neck.  I'm also a tad bit scared of the dark and I know for sure I would've peed my pants if I had to patrol those tunnels. OMG I would get super anxious when they would rest too. I damn near fell off my couch a few times.  -Jen
This threat requires skilled people to protect the enclaves, and thus, roles are provided during the naming ceremony: Breeder, Builder or Hunter. Our girl Deuce is a Huntress, something she has been training for her entire short life. Deuce is a wicked admirable character who is content living the dangerous life. While her fierce personality smacks you across the face, she is also extremely compassionate. She is intelligent yet lacks real-life experience, including that of love and intimacy, as no one but Breeders are allowed to be romantically involved. And lastly, Deuce is a survivor. Survivor + Compassionate + Huntress = someone I want on my team.
I liked Deuce's character.  Because of certain events that happen in the book, there was a period of adjustment that Deuce had to go through, and I think it was handled very well; it was both believable and stayed true to Deuce's personality.  And, for that, I was happy, because I have seen transitions in other books where the adjustment period was less than believable. -Amanda
And then we have Fade. *sigh* I think I was so drawn to Fade initially because he is an outcast and treated poorly by the enclave. He is used for his frightening ability to kill but no one reaches out to him otherwise. He is an enigma, at first, but once his history and personality are slowly revealed, you begin to appreciate his depth. He is like an onion. He has many layers, will hit you full force in the face with his awesomeness and may make you cry.
Fade is mysterious, and reserved but at the same time rebellious and edgy. Although he has a history that you would expect would harden him beyond repair, he still possesses a sense of honor and decency among the ugly reality that is his life. -Sophia
If you aren't a fan of zombies, but enjoy dystopian/post-apocalyptic books, don't shy away from this one!
Despite my lukewarm feelings toward zombie post-apocalyptic books, I felt that Enclave is part dystopian as well, and I think, for me at least, this is what makes it stand above other zombie books I have read in the past. -Amanda
Gritty, heartbreaking, chilling and brutal, Enclave presents us with a frightening world where the strong survive by force of will and the truth has been twisted so many times that no one remembers where the lies begin.  Gorgeous writing and strong, resilient characters will keep you hooked from beginning to end and you'll be dying to know what's in store next for Deuce and Fade. -Kelly

Have you read Enclave? Did you enjoy it? If not, have I (we) convinced you? *glare of doom*
P.S. Heroes and Heartbreakers posted a Razorland novella titled Endurance! And the sequel, Outpost, releases 9/4/12!
© 2012, Smash Attack Reads. All rights reserved.