Clock Rewinders on a Book Binge is the weekly recap feature created by Amanda @ On a Book Bender and Tara @ 25 Hour Books, where they shamelessly plug each other, share the fantastic posts, giveaways, or whatever else they've found and loved by other awesome bloggers (or authors!) during the week, and talk about the books they plan on reading in the coming week. Other people have been joining the party, and now I've got my dancing shoes on, too!
Smash Attack Reads Recap
I visited Amanda for her Blog Birthday and talked about the awesomeness of blogging.
In Real Life (and yes, the internet is real life, too)
After I visit the office Monday to finish up some paperwork and turn in my laptop, I am officially jobless! NOW, I can really start looking for a new job in the ATL and more importantly, a place to live! And do some bloggy stuffs! YAY!
Holy mother of drama, Batman! This past week had hairy drama llamas all up in the joint! I have done my best to stay out of it. I don't condone plagiarism. Kristi is in the wrong and will need to deal with the consequences of her actions. However, the whole thing got very torches and pitchforks in my opinion. Emotions were high, I get it. Everyone has the right to feel whatever they feel and I don't deny anyone the right to speak their mind, but from my perspective, the whole debacle was handled poorly. I also don't condone bullying and harassment. And before you get your panties in a wad, I'm not sticking up for Kristi, don't know her, have never interacted with her via social networking and have visited her blog maybe 10 times in 2 years. I've merely put on my social work hat, and from my professional point of view, the way it was all (and continues to be) handled is exactly why people commit suicide and shoot up schools and shit. Unlikely in this case, but the sad fact is, you never know how people will respond. #JustSayin. #MyOpinion #YouDontLikeItThatsCool
Parajunkee has something great to say about this topic here and here. As does Smexy Books, The Book Lantern and Dark Faeire Tales. On that note, Brianna's post put me investigative mode. I did some digging and found a nifty WP Plugin (Post URL Plugin) that allows you to post a special notice at the end of every post. You can see mine below. There are also tons of copyright plugins but I'm not keen to disabling right clicks and all that jazz…I am still praying for the day that one of my reviews ends up being quoted in a published book. heh.
Look…Tangent! I got to meet Tahereh Mafi and Veronica Rossi last night. Tahereh is a hoot! Her personality is epic and I love how she is just damn funny naturally. Win! Veronica told me she knew of me, which always blows me away. And they both said they loved the nickname "Smash."  Woot!
Books I Started
Books I Finished
Favorite Quotes of the Week
What had Yileen said about Scarlet? You play with her, you play with Fire. She a third degree burn ready to scald you without a second thought.

Wasn't that the goddamn truth.
"So, I guess we are who we are for a lot of reasons. And maybe we'll never know most of them. But even if we don't have the power to choose where we come from, we can still choose where we go from there. We can still do things. And we can try to feel okay about them."
The Perks of Being a Wallflower by Stephen Chbosky
Tidbits from around the blogosphere
Ann Aguirre posted the cover for Outpost, the second installment in the Razorland series. It speaks volumes of what we will find between those covers! AND, if you have not yet read the first book, Enclave, be sure to check back tomorrow for Must Read Monday! Also, there is a novella set in the Razorland world over at Heroes & Heartbreakers. AND, Ann Aguirre is hosting a contest on her blog!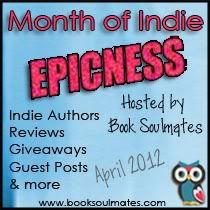 This week has been all about J. L. Bryan! READ. HIS. STUFF.
Search terms
jeaniene frost vlad: ZOMG! Squee!
sexy man: SHARE, you fools!
fantasy story of how life will be without fossil fuels: ohhhh! Like Empty by Suzanne Weyn?
the fucking walking dead: THIS!
karen marie moning jzb pov: You mean this? *thud*
anathema the cloud prophecy trilogy: Good stuff!
jenny pox plot summary: Um, EPIC focking storytelling! Incredible world-building! Characters you want to smother in love or toss into a volcano! READ J.L. Bryan!
 Have a fab week!
© 2012, Smash Attack Reads. All rights reserved.