My next fantabulous guest actually put the sauciness in awesomesauce. It is no secret that this chic and I are like two peas in a pod. She is the Manolo Blahnik to my Ross Clearance Shoes, the WIN! to my HOLLA!, the survival Barbie to my zombie flamingo…
Oh wait.
She IS all those things, but she's also SUPER fun, adorable and ridiculously friendly. I adore Ash! For those that know her, you won't be surprised at her topic today. She is the resident zombie expert, after all. Let's listen in…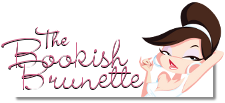 Zombie Eclectic
Hey guys, its Ash from The Bookish Brunette! I was SUPER excited when Smash asked me to guest post this week… and then I realized I had absolutely nothing to guest post about!! *gasp* What should I do? Write about my favorite characters EVER? List the most drool-worthy fictional boy toys… let's be realistic here, I'd need at LEAST a week to list all my book boys! Right?
In the end, I went to my comfort zone… Zombies. WIN. One of the things that I love the most about zombie books, is the variety available within the genre of zombie fiction. Uh yeah- there are SO many options available, that it is absolutely impossible not to find something you will like!
Here are some examples:
• Comedy
• Romance
• Post-Apocalyptic
• Horror
• YA
• then you have mixtures between all of them!
Let's begin with one of my favorite series:

Living With The Dead series by Jesse Petersen

Zombie Genre: Comedy (post-apocalyptic, adult, CRAZY funny)
If you want non-stop action, Laugh Out Loud laughs and zombies? The Living With The Dead series is where it's at!

Zombie Genre: Romance (post-apocalyptic, steampunk(ish), YA)
Lia Habel has written something like I've never read in Dearly, Departed… Completely unique and gorgeously written!
Zombies Don't Cry by Rusty Fischer

Zombie Genre: Comedy (YA, contemporary, super fun, romance)
Zombies Don't Cry is hands down- FABULOUS. Totally a feel-good, awesomely fun read! You will LAUGH continuously, love the characters and never look at zombies the same way again!
As The World Dies series by Rhiannon Frater

Zombie Genre: Post-Apocalyptic (adult, horror, EPIC *it counts*)
This series is freaking PHENOMENAL… Frater doesn't hold back, you will be shockingly horrified, utterly breathless and you will love every single second of it!
Zombie Genre: Post-Apocalyptic (adult, post-apocalyptic, dystopian)
Now, I'm not recommending this one- so much as using it as an example of sub-zombie genre… because I wasn't a huge fan of this book, but a LOT of people LOVED it. I didn't. You say potato and all that nonsense…
This is more zombie… different.

Benny Imura series by Jonathan Maberry

Zombie Genre: Post-Apocalyptic (YA, post-apocalyptic, coming of age, EPIC)
Completely, utterly amazing… Jonathan Maberry takes a 'zombie story' and twists it into a mighty tale of love, loss, family and growing up! He blends humor, devotion and immense emotion to bring you something you'll never forget!
There! See what I mean? With a list like that, everyone should be able to find SOMETHING! If not… ask! I have more!
Thanks for having me on Ash!
---
A BIG thanks to Ashley for stopping by and sharing her knowledge on all things zombie. Are we a fan yet? If not, get with the program!
And, if you've been living under a rock, or more realistically, not been a fan of my blog for long, then you might be missing out on some pretty epic stuff that Ashley and I create…#justsayin
© 2011 – 2012, Smash Attack Reads. All rights reserved.